Our dedicated wine staff is eager to share our knowledge and excitement about all things wine. Stop by your favorite Binny's location, or ring us up at the new and improved Wine Hotline: (866) 975-6188 • [email protected]
With almost 2000 different wines from more than 50 different regions, Binny's October Wine Sale will overwhelm anyone. Here's our Top Ten. All overdeliver and are ready to enjoy tonight!
#1
"....stylishly structured and ripe...."
Roger Voss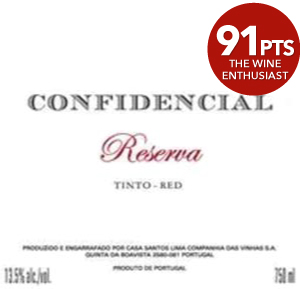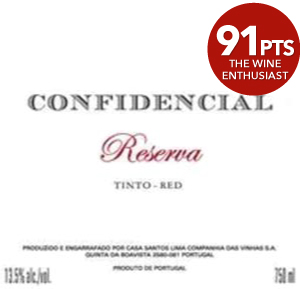 2013 Confidencial Reserva
...
Portugal and its wines are finally gaining the respect they've long deserved, as the 2013 Confidencial Reserva demonstrates. With its suggestions of red and black cherries, exotic spices, and aromatic herbs, it is a mind-boggling mix of power and grace that you'd normally find in bottles twice the price if not more. It's sure to satisfy the avid enthusiast, but at this price is well within the reach of all budgets!
#2
One of the
"Names to look out for…."
Tim Atkin MW, on Matua Wines

2016 Matua Sauvignon Blanc
...
Enjoying long and cool sunny days, New Zealand is an ideal setting for sauvignon blanc vines, as the 2016 matua proves. With its zingy notes of citrus and savory hints of fresh herbs, this New Zealand sauvignon blanc can be as complex as anything from the Old World, but had for a song. Definitely one of our best deals this month.
#3
"A consistent, big-time winner in the value sweepstakes...."
Robert M. Parker, Jr.


2015 Pine Ridge Chenin Blanc Viognier
...
A sumptuous blend of two French varietals, and one of California's top value whites. Comprised of chenin blanc with a splash of viognier, this stunner from Pine Ridge is a crowd-pleaser. Overflowing with apples, peaches, and apricots - this cuvee also happens to be one of California's best white wine deals. Be sure to buy a few bottles - you'll be reaching for a second bottle in no time.
#4
"One of the best values in Cabernet Sauvignon anywhere in the world...."
Robert M. Parker, Jr.

2014 Louis Martini Cabernet Sauvignon Sonoma
...
A model California cabernet at a deal of a price. A long time producer, Louis Martini established vineyards not only in Napa but also in Sonoma, where the sunny yet cool vineyards yield flavorful wine. But at a fraction of the cost when compared to wines from Napa. Blackberries, dry herbs, and toasty hints - it's all in there.
#5
"....generous, warm and showy...."
The Wine Advocate

2015 Cecilio Black Slate Gratallops
...
Decades before officials formally recognized the burly reds of Priorat, Celler Cecilio was cultivating vines upon its schist and slate soils and crafting bold reds for local consumption. Today the estate is regarded as one of Priorat's finest, and enjoys worldwide distribution. And for good reason, as the 2015 Gratallops illustrates. Dark fruit and floral hints on the nose. Currants and blackberries on the attack, with licorice and spring flowers unfolding with time. Lush, seamless, and opulent.
#6
"....ethereal kabinett...."
The Wine Enthusiast

2015 Dr H Thanisch Bernkasteler Badstube Riesling Kabinett
...
The fact that this flavorful riesling is from the stellar 2015 vintage makes it a must buy. But what's more, the fruit is sourced from Bernkasteler Badstube, one of Germany's greatest vineyards. Its westerly slopes enjoy the warmth of the afternoon sun, which in turn yields ripe and riveting rieslings that have come to define the Mosel style: fragrant and ethereal while packed with flavor. Tangerines, apricots, alpine flowers - the 2015 Thanisch Bernkasteler Badstube is world class wine.
#7
"....another outstanding vintage of this cuvee...."
Jeb Dunnuck

2015 DAOU Winery Cabernet Sauvignon
...
Napa isn't the only place in California where you'll find sumptuous cabs. Paso Robles is now a reliable source for voluptuous cabs, thanks largely to Daou Winery. Brothers Georges and Daniel Daou had once considered purchasing land in Napa. However, they discovered high altitude limestone-rich plots in Paso Robles that yielded ripe fruit dense with fresh and energetic flavors. That is, fruit every bit the equal to anything from Napa or Bordeaux - as the 2015 Cabernet Sauvignon shows. Black raspberries, cassis, plums, licorice - all you will find in this voluptuous wine.
#8
"Ridge remains one of the finest operations I visit anywhere in the world."
Antonio Galloni

2015 Ridge Lytton Estate Petite Sirah
...
From one of the wine world's finest estates, a blockbuster red crafted under the watchful eye of Paul Draper. His secret? Old vines, wild yeasts, and submerged cap fermentations - all which yield in turn densely flavored and energetic reds whose polish of tannins lend an uncommon refinement. Aromatic fruit on the nose, with violet inflected red and black cherries on the palate. Black peppers and baking spices unfold with time in the glass. Silky and finely structured, the 2015 Lytton Springs Petite Sirah is both powerful and polished.
#9
"One of the stars of the vintage...."
Antonio Galloni

2014 Chateau Les Carmes Haut Brion Pessac Leognan
...
From Pessac-Leognan, whose wines were the first to earn the fame that Bordeaux as a whole now enjoys today. The region's gravel beds yielded especially flavorful wines whose tobacco and cedar wood accented notes came to define how red bordeaux should taste. Ripe fruit on the nose with smoky oak notes woven into the fruit. Raspberries and blackcurrant on the palate, with hot brick, vanilla hints, and fine tobacco emerging with a swirl of the glass. Tasty now, this will definitely gain nuance with age.
#10
"Clos du Mont Olivet is one of the great estates of Chateauneuf du Pape."
Robert M. Parker, Jr.

2015 Clos du Mont Olivet Chateauneuf du Pape Cuvee du Papet
...
From hand harvesting to fermenting with native yeasts in cement tanks, everything that Clos du Mont Olivet does is to highlight the fresh flavors of their savory wines, irrespective of the costs involved. What's more, they source the fruit for their wines from old vines, which yield berries dense with flavors. This Chateauneuf is as classic red as they come. Tres magnifique!
All the wines below over-deliver, are Binny's approved, and are ready to enjoy tonight!
#1
"A hidden gem in the vintage...."
Jeb Dunnuck

2015 Domaine de la Solitude Cotes du Rhone
...
From one of the best vintages in recent years, a stellar deal from one of the Rhone valley's top estates. From organic viticulture and hand harvesting to a gentle crush and hands-off fermentation, Solitude's aim is to highlight the fresh flavors of their savory wines, irrespective of the labor and costs. This red can stand shoulder to shoulder with many higher end Southern Rhone wines, yet at only a fraction of the cost. The real deal.
#2
"delicious, round and seductively textured"
Allan Meadows

2015 Vincent Pouilly Fuisse Marie Antoinette
...
A touch warmer than Burgundy and blessed with a limestone subsoil very similar to its more northern counterpart, Pouilly Fuisse has long enjoyed a high regard among discerning devotees of chardonnay. Why so? Its wines display a ripeness and fullness with an ease that Burgundy could only wish for, and at a price point affordable by all. The 2015 Marie Antoinette is not only a benchmark example but also a bargain.
#3
A Kermit Lynch Selection


2015 Regis Bouvier Marsannay Rouge Les Longeroies
...
Crafted by one of the best estates in an undervalued appellation. From one of the coolest sections of the Cote de Nuits, the reds from Marsannay embody all the qualities that drive pinot enthusiasts mad: vibrancy and clarity of flavors that persist long on the palate. What's more, the wines of Regis Bouvier are staples in the book of legendary importer Kermit Lynch, whose hand selected portfolio of French wines are second to none. His name on any wine bottle is a sure mark of quality.
#4
"....a great value buy."
Monica Larner

2014 I Custodi Etna Rosso Pistus
...
I Custodi's vineyards lie within the shadow of Mount Etna, Europe's largest active volcano. Undoubtedly a big risk, yet upon those volcanic slopes nerello mascalese thrives. It's no easy task to cultivate the vine on a slope, where any misstep can twist an ankle. But vineyards rooted on slopes not only enjoy a more full exposure to the sun; moreover, sloped vineyards are cooler, permitting wines with intensely fresh and vibrant flavors - like those found in the 2014 Pistus.
#5
"the pinnacle of the Châteauneuf du Pape hierarchy"
Jeb Dunnuck

2015 Clos Saint Jean Chateauneuf du Pape Vieilles Vignes
...
A full-figured, flavorful red from from perhaps the greatest appellation of southern France. Upon the clay and stone soils of Chateauneuf-du-Pape, grenache gains an almost sinful richness of flavors. Crafted with the assistance of celebrated winemaker Philippe Cambie, Clos St. Jean's 2015 CdP is an especially telling example that also possesses an alluring fragrance that marks it above most others. Top notch grenache.
#6
"Graham is indisputably one of the great names of port."
Richard Mayson

Graham's 20 Year Old Tawny Port
...
One of the best tawny ports on the market from the finest Port estate in all the Douro. There, vines endure the heat, yielding remarkably ripe fruit dense with flavor and texture, which of course is enriched by the addition of brandy. The best are a blend of sheer power, fresh fruit, rich textures, and a spine of tannin - and Graham's 20 Year Tawny has all in spades. Rich, round, and luxurious, and ready to enjoy now.
#7
"....A-list producers...."
Monica Larner

2013 Paolo Scavino Barolo Bric del Fiasc
...
A full-bodied, aromatic red from one of Italy's greatest craftsman and most forward thinking proprietors. Enrico Scavino pursues cooler, more well managed fermentations and elevage in smaller barrels, all for a more fresh flavored and polished wine. And all without sacrificing the breathtaking range of flavors nebbiolo vines rooted upon the finest sites (like Bric del Fiasc) can yield: exotic spices, fine tobacco, red cherries, and rose petals in the best examples, like Scavino's 2013 Barolo Bric del Fiasc.
#8
"...one of the most respected young vignerons not only in Gevrey, but in the Côte de Nuits."
Neal Martin

2014 Denis Mortet Gevrey Chambertin Mes Cinq Terroirs
...
A full bodied pinot from Burgundy's most muscular commune. The pinots from Gevrey Chambertin are Burgundy's most complete, displaying a weight and structure that distinguish its wines from all other communes. The very best will cost you dearly - after all, the commune boasts the greatest number of Grand Cru vineyards! Luckily, the village AOC Gevrey Chambertin is also the largest, and offers a number of spot-on examples at more affordable prices. Those from proprietor Arnaud Mortet are among the commune's best deals. Wild red cherries, rose petals, a dash of baking spices, and just a hint of charcuterie - the 2014 Cinq Terroirs is spot on Gevrey.
#9
"....one of the finest wine estates in the world."
Monica Larner

2014 Fontodi Flaccianello
...
A world-class Italian red from one of Chianti Classico's greatest estates. Comprised entirely of sangiovese (most Chiantis are a blend of sangiovese and other varietals) and crafted with the most gentle and modern techniques, Fontodi's Flaccianello is one of Tuscany's most pure expressions, with morello cherries, cassis, and savory hints coming to the fore. As distinctive as any Brunello and as complex as any Classified Bordeaux estate, the Flaccianello is a monument to Tuscany. Outstanding wine.
#10
"....another magnificent wine from Joseph Phelps."
Antonio Galloni

2014 Joseph Phelps Insignia
...
Bordeaux, of course, is where cabernet sauvignon and merlot first found fame. But California enjoys advantages that in turn yield some the world's finest reds, deep and dense wines whose concentration and depth of flavors can match anything from France. Many pioneering Napa proprietors seized upon the opportunity to bottle either cabernet or merlot, but the late Joseph Phelps was among the very first to promote a Bordeaux blend rather than a wine comprised of a single varietal. His Insignia is now a Napa icon, and still one of the finest not only from California but in all the world. A cellar treasure.