Our dedicated wine staff is eager to share our knowledge and excitement about all things wine. Stop by your favorite Binny's location, or ring us up at the new and improved Wine Hotline: (866) 975-6188 • [email protected]
Below are what we consider the Top 10 wines from the August Wine Sale. All are delicious wines as well as great values.
#1
"....one of Italy's excellent value reds."
James Suckling

2014 Vitiano Red
...
That's right: affordable luxury from Italy! Crafted by Falesco, which is owned by Antinori's chief winemaker Renzo Cotarella and his brother, super consultant Riccardo Cotarella. Overflows with red currant, black cherries, white pepper and licorice, with just a kiss of polished tannins in the finish. An outrageous value at regular price, and a steal at the sales price.
#2
#45 in Wine Spectator's Top 100 Wines of 2016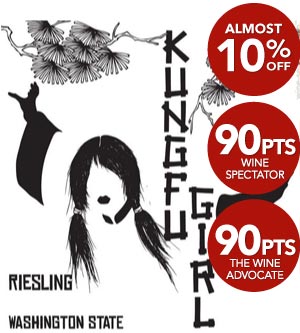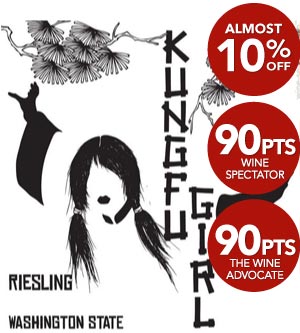 2015 Charles Smith Wines Kung Fu Girl Riesling
...
A bottle that exceeds expectations. Crafted by Washington legend Charles Smith, whose larger than life antics are equaled by his spot on palate and wine acumen. The proof is in his Kung Fu Riesling - a punchy white whose spicy kick of flavors prove that Washington state's rieslings are second to none.
#3
"....stunningly aromatic Malbec…."
2015 Dona Paula Malbec
...
How can you be wrong with a varietal that many Argentines consider the ideal beverage to serve with asado (an assortment of grilled meats), their national dish? A robust red, the 2015 Dona Paula Malbec almost overwhelms with red and black berries that are framed by chocolate hints. Enjoy this with grilled meat drizzled with BBQ sauce.
#4
"Calera hit the bull's-eye…."
2014 Calera Chardonnay
...
Enjoying stints at Romanee-Conti and Dujac before establishing his estate in Mount Harlan, California native Josh Jensen and his wines have proven every inch the equal to its French counterparts. In France he learned of the significance of limestone soils, and in turn established a California vineyard whose limestone soils and elevated plots yield some of the finest chardonnay clusters in all of California. His gentle, hands-off approach in the cellar brings to the fore apple/lime notes and baking spice suggestions, with a persistence on the palate that rivals any Grand Cru from Burgundy.
#5
".... one of California's elite Zinfandel specialists…."
Tim Fish on Seghesio, Wine Spectator
2015 Seghesio Zinfandel Sonoma
...
Every zin worth its name overflows with fruit. What distinguishes Seghesio's zin is its baking spice complexity and the caramel hints that linger on the long finish. This hellbent zin will delight BOTH the hedonist and the connoisseur. Black fruit on the nose. Berries and licorice on the palate, with baking spice hints framing all. A polished red with plenty of flavor to spare.
#6
"....one of the classiest and most understated Sauternes of the vintage."
2014 Chateau Doisy Vedrines Sauternes
375ml Bottle
...
Its telltale flavors of orchard/tropical fruits, honey, and marzipan come about through the activities of noble rot. Encouraging the attack of noble rot runs counter to the protective instinct of farmers. But should you welcome it, what you may have at the end of your efforts is one of the wine world's greatest delights, as the 2014 Doisy Vedrines illustrates. Pineapples, ginger, apricots, oranges, almonds - all you will find in this honey-textured dessert wine.
#7
"....the wines [of Saint Damien] represent incredible values...."
Jeb Dunnuck, on Saint Damien
2014 Domaine Saint Damien Gigondas Vieilles Vignes
...
In the limestone-rich hillsides of Gigondas, grenache approaches the heights of Grand Cru pinot noir! In recent years Gigondas has gained the recognition that it so long deserved, and yet remain underpriced for what's in the bottle. Saint Damien's 2014 Gigondas is a case in point. Vibrant floral-inflected red fruit, with deeper cherry and earth notes in the background. Juicy yet precise and seamless, with silky tannins in the finish. This is sensual yet graceful grenache! Outrageously undervalued.
#8
"....one of the noble Chianti Classico estates most steeped in history."
2012 Fonterutoli Chianti Classico
...
Though steeped in tradition (Fonterutoli was founded in 1435 by the Mazzei family), the estate was among the first in the late 70s to plant French varietals in their vineyards and adopt French barrels for aging. Their wines are as polished as any wine, yet retain their telltale Tuscan flavors of tart cherries, savory tobacco, and fine polished leather. A regal red.
#9
"....a consistently top Brunello producer...."
2012 Fanti Brunello di Montalcino
...
The arid and sunny mountain vineyards of Montalcino consistently yield full-bodied wines that can gain an almost incomparable complexity of flavors. Those from the cellar of Fanti are among the most polished and vibrant. There you'll find you'll find temperature-controlled stainless steel fermentation vats and French barrels, both which yield a more vibrant, more supple, and more polished red. Dark cherries, raspberries, plums, spice, black licorice, savory tobacco, wild herbs, earthy hints, even fine polished leather - all you will find in this deftly crafted Brunello.
#10
"A joy to drink now, but this will improve with age."
2014 Napanook by Dominus
...
Critics concur: the cool yet sunny hillsides of California's Napa Valley offer some of the finest cabernets in all the world, and the cabs of Dominus Estate are among Napa's finest! The Dominus Proprietary Blend often steals the limelight, but among savvy connoisseurs the Napanook cuvee is a winner, offering cult cab flavors for a fraction of the cost. The 2014 Napanook is undoubtedly a wine for special occasions, yet remains a luxury affordable for all.
"Simply put, the finest 2014 are utterly magnificent and well worth seeking.
Most importantly, the 2014 is a very consumer friendly year."
Antonio Galloni
www.vinous.com, 2 February 2017
What more can we add? We're of course thrilled to offer the newest releases from the stellar 2014 Bordeaux vintage. All are bold expressions, full flavored and velvet textured wines fit for a fine meal or on their own.
Antonio Galloni, www.vinous.com
2014 Chateau Lanessan Haut Medoc
...
"The 2014 Lanessan is gorgeous. Wild cherry, herb and tobacco give the wine its distinctive savory aromatic profile, while firm tannins add energy. The result is a touch rustic, but it is also immensely pleasing. There is lovely depth in the glass, although the 2014 appears to have shut down a bit post-bottling."
91 points, Antonio Galloni
from his website www.vinous.com, February 2017
Neal Martin, The Wine Advocate
2014 Chateau La Dauphine Fronsac
...
"The 2014 La Dauphine was a bit of a minx when I tasted it out of barrel, some bottles showing overripe character and others much fresher. Therefore, I did not score it and crossed my fingers. Well, I am glad I ignored those misfiring bottles, because it has blossomed into a fine Fronsac. It offers attractive blackberry, wild strawberry, dried apricot and crushed violets scents on the nose that seem to build in intensity but wisely never go over the top. The palate is medium-bodied with crisp tannin, plenty of red cherry and crushed strawberry fruit; lovely balance with a supple and detailed finish that has superb mineralit". Check out this great Fronsac wine. It's a little gem."
92 points, Neal Martin
The Wine Advocate, 31 March 2017
"....delightful, clean and pure...."
Neal Martin, The Wine Advocate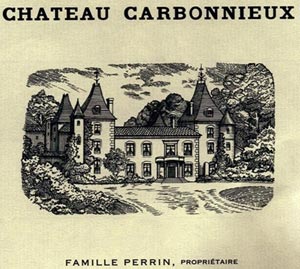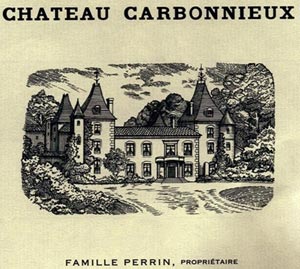 2014 Chateau Carbonnieux Rouge Pessac Leognan
...
"The 2014 Carbonnieux Rouge has a delightful, clean and pure bouquet with gravel and sous-bois scents neatly interwoven into the blackberry fruit. It feels quite understated, but it gains intensity in the glass. The palate is medium-bodied with fine tannin, a keen line of acidity that lends this impressive tension and vibrancy. There is not enormous length here, but the sorbet-like freshness wins you over. Keep in the cellar for 2-3 more years and then enjoy over the next 15-18 years."
92 points, Neal Martin
The Wine Advocate, 31 March 2017
Binny's Beverage Depot is staffed with the most knowledgeable and OPINIONATED enthusiasts in the industry, and we're thrilled to share our discoveries and with you. Many are rare hidden gems, so ask if you don't see it on the shelf!
2015 Castano Monastrell
...
From the original winemaking pioneers in Yecla, the Castano family monastrell vines (also known as mourvedre) are farmed with sustainable, organic practices. They range in age from 30 to 60 years old... incredible for a wine this price! Stainless steel tank fermentation and aging preserve the natural red fruit driven flavors. This medium bodied, dry wine is a perfect choice for grilled meats or Gruyere cheese. - Tom N., Wine Manager; Champaign
2015 Contini Pariglia Vermentino di Sardegna
...
Beautiful wine for grilled chicken, fish and shellfish. Creamy texture, crisp acidity and a hint of salinity make this an elegant wine for any occasion! - Stephanie K., Wine Consultant; Hyde Park
2015 Niepoort Twisted
...
An easy drinking red made from the classic Douro grapes used for Porto: touriga nacional, touriga franca, tinta roriz & others. Robust, rustic and dry. Just what the Doctor ordered!- Gregory F., Wine Consultant; Hyde Park
2014 Chateau Puech Haut Coteaux de Languedoc Le Prestige
...
The blend is 55% grenache from 60-70 year old vines and 45% syrah from 40 year-old vines. It spends 12 months in concrete and drinks smoothly for a wine that sees no oak. On the nose, you'll notice plum, cherry cola, mint, and the area's herbs de provence and minerality. Dark fruit, spices, lively acidity and a dynamic complexity define the palate. Drinks like a $30+ bottle, and a real steal at $16.99. - Tom P., Wine Consultant; Skokie
2015 Pali Huntington Pinot Noir
...
The goal at Pali is to make terroir-driven wines and to bring these wines to the consumer at the best prices without compromising quality. The 2015 Huntington shows a candied nose of sweet cherries, dark chocolate, cinnamon, ripe strawberries, boysenberries, toasted oak, and dried thyme. The palate offers up bright red fruits, cherries and raspberries up front, with earthy tones of wild mushrooms and black truffles. Long, elegant finish with black licorice, red fruit and hints of black tea. - Barry, Wine Consultant; Plainfield
2016 Chateau Margui Coteaux Varois en Provence Rose
...
This wine has been a great rose option for the last five years or more that I've known it. Structured and complex, it took a while to open up, but eventually it emerged beautifully. Elegant, with a quiet power, subtle garrigue, and dried wild fruits.- Dan S., Wine Manager; Orland Park
La Cle de la Femme Brut
...
Magic Door is, without a doubt, the best bang for your buck when talking champagne! Copious bubbles burst through the pale goldenrod juice, bringing forth delicate scents of herbs, white peach, and apple blossom. Layers of zippy citrus dance around the palate, with just a touch of honey & a hint of spice. Flavors of toast and almond round out the crisp apple notes, ending with a smooth and elegant finish. - Violet E., Wine Consultant; Lincoln Park
2015 J J Prum Wehlener Sonnenuhr Riesling Kabinett
...
J.J Prum is consistently an outstanding producer of traditionally produced German riesling, so I was unsurprised when this was my wine of the night from our recent riesling tasting. Sweet yellow fruits infused with minerality. Love the viscous texture and interplay of fruit and acidity. Showing very ripe for a Kabinett, yet not overly sweet. Delicious wine with food or on its own. - Dan S., Wine Manager; Orland Park
2014 Klinker Brick Old Ghost Zinfandel
...
Made from the same estate as Klinker Brick, this wonderful expression of old vine zinfandel exhibits beautiful dark fruit with a smooth finish. Time to start the grill!- Stephanie K., Wine Consultant; Hyde Park
Guiborat Fils Prisme 11 Blanc de Blancs
...
Fine bubbles with lovely floral, citrus notes that linger on an elegant dry finish. Next generation Champagne at a very reasonable price. This is the wine you talk about while you drink, not drink while you are talking. - Vincent Wong, Wine Consultant; Hyde Park