Like it juicy? Cravin' that haze? "New England" style IPAs are all the rage right now. Popularized by a handful of breweries in Vermont and Massachusetts, they focus primarily on dry hopping; favoring big hop aroma over bitterness. From slightly hazy to downright turbid, they forgo filtration to accentuate a soft creamy mouthfeel. This week more haziness rolls in, courtesy of our friends at Odd Side Ales.
Odd Side Ales Mosaic Dank Juice
6 Pack of 12oz Cans
...
This riff on Dirty Dank Juice showcases one of our favorite hops, and as per usual, Mosaic does not disappoint. Pouring pale orange in color, aromas of tangerine, papaya and passionfruit float from the glass. Remarkably soft across the palate, it delivers a beautiful mixture of tropical fruit flavors, culminating in a citrusy and floral finish. Brewed in the Midwest, but New England through and through; an alluring look at the new face of IPA.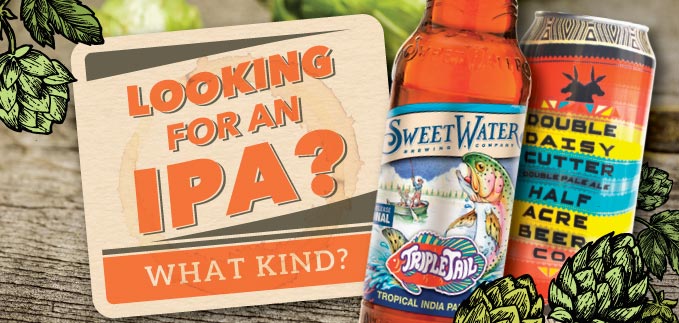 India Pale Ale - It's the beer that put American craft brewing on the map. West Coast, Imperial, New England, Black, White and Rye - the variations on this popular style are nearly endless. Some bitter, some juicy - some spicy, some soft – nowadays there is seemingly an IPA for every taste and occasion. Here are a few of our favorites – some brand new, others tried and true.



Allagash Brett IPA
4 Pack of 12oz Bottles
...
Many breweries are just beginning to experiment with Brettanomyces, but Allagash is a craft veteran that continually impresses us with their artful taming of this wild yeast. Brett comes off as more fruit forward and spicy than funky here, perfectly complementing a bright tropical hop profile. A touch of wheat imparts some additional softness to this complex and fruity IPA, with hints of citrus and pineapple leading up to an herbaceous and peppery finish. A limited release that is not to be missed! *Not available in Champaign or Bloomington.
Sweetwater Triple Tail
6 Pack of 12oz Bottles
...
Dry hopped with Mosaic, Citra, Denali and Waimea – TripleTail begins with a tropical nose loaded with pineapple, papaya and peach aromas. Light and crisp across the palate, this easy drinking and juicy IPA finishes with pronounced mango and papaya. *Not available in Bloomington.
Half Acre Double Daisy Cutter
4 Pack of 16oz Cans
...
Technically Half Acre likes to call this a "Double Pale Ale", but it drinks like a big IPA. Fruity, dank and resinous on the nose, Double Daisy explodes across the palate, delivering a massive wave of citrus, cedar and pineapple. Snatch this one up quick, because after this drop, it's gone for the season.
Dogfish Head 90 Minute IPA
4 Pack of 12oz Bottles
...
As the IPA style continues evolve over time, a few timeless classics remain refreshingly true to themselves. 90 minutes of continuous hopping introduces plenty of citrusy hop aroma as well as a hefty dose of resiny hop bitterness. Yet a sturdy malt backbone helps provide both balance and complexity to this massive IPA. Seemingly worlds apart from many of today's hazy juice drench DIPAs, but that's ok. Still a classic and still one we love to drink.
Oktoberfest and pumpkin beers loom on the horizon, but we're not ready to say goodbye to warm weather just yet. Here are some refreshingly tangy fruit beers, perfect for quenching your thirst during the final weeks of summer.
Tallgrass Blueberry Jam
6 Pack of 12oz Cans
...
Once revered by the people of Berlin, Berliner Weisse is a refreshingly tart style of wheat beer that nearly faded from existence. Thankfully American craft brewers embraced this forgotten German gem with open arms. Like their delicious Raspberry Jam, this latest Berliner-style Weisse from Tallgrass incorporates berry puree, for an added depth of flavor and just the slightest hint of sweetness. A deliciously fruity sour with a lovely blueberry finish. *Not available in Bloomington.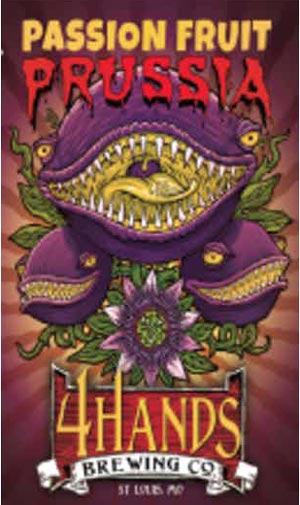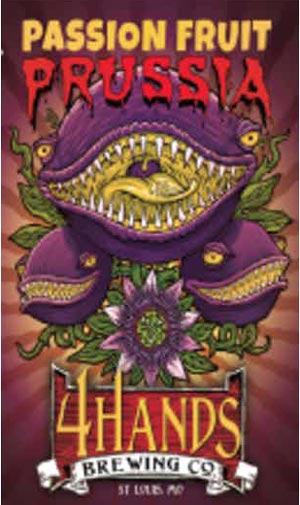 4 Hands Passion Fruit Prussia
4 Pack of 12oz Cans
...
Passion Fruit Prussia is 4 Hands take on a fruited Berliner-style Weisse. While not quite as tart as Tallgrass' Blueberry Jam, it's still finishes nice and dry. A sessionable and thirst quenching sour ale, with a lovely tropical finish.
Ballast Point Sea Rose
6 Pack of 12oz Bottles
...
Blueberry, Raspberry, Passion fruit – how about cherry? Ballast Point Sea Rose is a lively wheat ale that delivers remarkably natural cherry flavor. A subtle touch of sweet baking spice complements the tanginess of its sour cherry notes. The fruity finish is pleasantly tart, but not mouth puckering.
Ballast Point Orange Vanilla Fathom
22oz Bottle
...
Ballast Point loves their fruit. They've concocted some clever creations that artfully pair fruity American hops with the likes of mango, pineapple, watermelon and grapefruit. They dive into somewhat unchartered water with this unique twist on an IPL (India Pale Lager). On the nose, it's sweet and sherbety just like a dreamsicle, but its creamy juicy center leads to a bold hoppy finish. Big, crisp and refreshingly different.
Whether you're sliding cedar planked salmon onto a gas grill or slow smoking racks of ribs on a charcoal kettle, food fresh off the grill deserves an artfully crafted brew to match. Here are some suggestions to help compliment the fruits of your flame.
BURGERS
Odell IPA
6 Pack of 12oz Bottles
...
Much like its English forbearers, Odell IPA features a fruity yeast strain and a solid malt backbone. Hopped with nine different varieties of American hops, the nose is spicy and piney, setting the stage for a citrusy core and a big, resin packed finish. This interplay of sweet malt and spicy hops works wonderfully with tangy condiments, sharp cheeses, and the juicy richness of a great hamburger.
RIBS
Founders Porter
6 Pack of 12oz Bottles
...
The bold flavor of ribs demand brews that can stand up to sticky sweet sauces, tangy vinegar mops and spicy dry rubs. Founders Porter is one of our favorite examples of the style and a near perfect pairing. Served dry or sauced, this porter's smoky and chocolatey roasted malt flavors work marvelously with ribs.
CHICKEN
Bell's Amber Ale
6 Pack of 12oz Bottles
...
Roasted chicken and amber beer is a match for the ages. Bells Amber Ale blends caramel malt sweetness with earthy hops. Serve with herb rubbed slow-roasted chicken and your guest will be talking about this harmonious pairing long after the last piece of chicken is gone.
SALMON
Boulevard Unfiltered Wheat
6 Pack of 12oz Bottles
...
You don't want to drown out delicate seafood preparations with too bold of a brew. Something light and fruity like Boulevard's Unfiltered Wheat works like a charm with a nice slice of salmon. Soft and creamy across the palate, it's lemony finish is perfect for seafood. If you're preparing it on a cedar plank, you could also consider something hoppier, like Boulevard's 80 Acre.
CORN ON THE COB
5 Rabbit 5 Lizard
6 Pack of 12oz Bottles
...
5 Rabbit routinely offers fresh new takes on classic styles, and this riff on a Belgian Wit is one of their best. Lime, passionfruit and coriander accent, but do not overwhelm this light and refreshing wheat ale. A fresh and fruity pairing that's especially nice if you're preparing sweet and spicy elotes.
Since first opening their doors in 2010, Haymarket Pub & Brewery has drawn throngs of devoted fans from all throughout Chicagoland to the corner of Halsted & Randolph. From refreshing pale ales to decadent barrel aged stouts, they've developed a solid catalog of award winning brews. Binny's is excited to announce that their first batch of canned beer has finally arrived. We enjoyed popping the tops on these classics and can't wait for future releases to come.
Haymarket Aleister
6 Pack of 12oz Cans
...
Aleister is an artfully balanced IPA with notes of bright and tangy citrus and a hint of pine. Crystal malt imparts some amber color and a touch of toffied sweetness that pairs well with its citrusy finish.
Haymarket Oscar's Pardon
6 Pack of 12oz Cans
...
This light and refreshing pale ale features an estery Belgian yeast strain, providing notes of stone fruit and sweet spice that complement its citrusy hop profile. A soft and sessionable pale.
Haymarket Speakerswagon
6 Pack of 12oz Bottles
...
This traditional pilsner is crisp and clean, with a kiss of Saaz hops imparting a noble herbaceousness to the finish. A crushable craft pils.
Jennie Ripps and Maria Littlefield know tea. Their love for tea led to the creation of Owl's Brew, cocktail mixers built around specially selected tea blends. Their teas contain no artificial flavors or concentrates - just whole tea leaves, fruits, spices and herbs. After realizing their teas blended deliciously not only with spirits, but also with beer, they began working on a line of ready to drink radlers. We popped a few cans and were quite impressed. These radlers bring something refreshingly different to the world of beer, and that's no small feat.
Owl's Brew Radler That's My Jam
6 Pack of 12oz Cans
...
This unique concoction combines an amber ale with organic Darjeeling tea, lemon peel, hibiscus flowers, strawberry juice, lemon juice and agave nectar. True to its name, it begins with a hit of rich and jammy strawberry. Agave nectar is used judiciously, balancing out the lemon acidity to create its mouth wateringly sweet and sour finish. *Not available in Champaign or Bloomington.
Owl's Brew Radler Blondie
6 Pack of 12oz Cans
...
Blondie combines wheat beer with organic English breakfast tea, lemon peel, lemon juice, lime juice and agave nectar. A good amount of tart acidity keeps this dry, which is a nice departure from the sweeter shandies and radlers on the market today. Amazingly thirst quenching and perfect during warm weather. *Not available in Champaign or Bloomington.
Owl's Brew Radler Wicked Watermelon
6 Pack of 12oz Cans
...
Watermelon is the star of the show here, but this radler is also accented by organic white tea, pomegranate juice and agave nectar. Pomegranate is a nice addition here. Not only does it contribute to its lovely pinkish hue, but it also imparts some subtle berry notes to the finish. *Not available in Champaign or Bloomington.